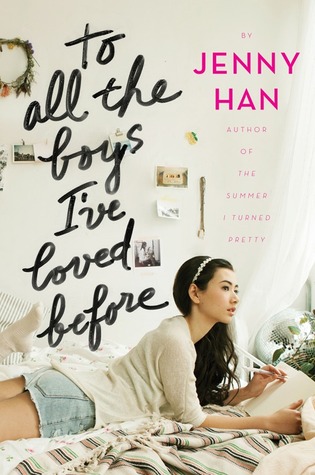 Touching on topics like crushes, first loves and sisterly bonds, this was an enjoyable contemporary book that had an equal balance of substance and lightheartedness. It was a nice, easy read that felt really fitting for this time of year- the end of winter and start of spring. It had a lovely homey feeling to it, which is also portrayed well by the cover.
The writing style was slightly different, a combination of past and present tense scenes, which I found really enjoyable. I loved how the two were combined as the main character, Lara Jean, talked about the near and far past, as well as the present. In that way, the girls' mom becomes part of the story, despite her no longer being alive. I found that many of the chapters started the same way, with either a flashback to when Lara Jean's mom was alive or when Margo was still at home, or with her waking up to a new day. While I enjoyed the former, the latter got very unoriginal and dull over time.
Lara Jean is the middle child of three girls, which is incorporated into her personality. Unlike her sisters, she is unsure of herself, and often allows others to dictate who she is and how she lives her life. She is a weak person in the beginning, and even though character development was a bit lacking, she does become stronger, more of an individual by the end of the story. Although she is nearly seventeen, I often felt like she was a bit younger, closer to her early teens. She is naive and immature, despite believing herself to be very mature. I kind of like that fact, however, because she is a realistic teen character. I found I could relate her to my teenaged self in several ways. Even her relationship with her younger sister Kitty reminded me of my sister and I at their ages.
I wasn't expecting so much of the story to be based around Lara Jean and her relationship with her two sisters, Kitty and Margot. However, I was really happy that it was. It gave the book a feeling of realness. Kitty was a magnificent character, very true to a real girl her age. Margot tended to act controlling and distant toward Lara Jean, but then again, she is the oldest girl, left to care for her two younger sisters after their mother's death.
While I loved the family aspect of this book, I wasn't as fond of the boy aspect. Naturally, that was a majority of what the book was focussed on. It seemed that Lara Jean put way too much emphasis on that part of her life, feeling like she needed to be with a boy at all times, whether their feelings were true or fake. Her changing feelings for Josh added to the believability of her character. That being said, my feelings also changed for Josh as I read the story. I liked the role he played at first, while he was dating Margo. However, as the book progresses, I found Josh to be almost controlling toward Lara Jean, as if he knew what's best for her, even though he didn't. He would make a good friend, if not for his tendency to treat Lara Jean like she's a kid.
Peter, on the other hand, was a great friend, in my opinion. Through his fake relationship with Lara Jean, their bickering and time spent together, turns their simple acquaintance into a solid friendship. I really enjoyed the little adventures they go on and the things they do together. Although it starts out really stupid and clearly fake, it progresses into a beautiful relationship, even before any actual romance begins.
While Lara Jean's sisters are great supporting female characters, her one and only girl friend, Chris, was an unneeded, gross character and pretty bad friend overall. Although it's known that she cares about Lara Jean, Chris shows up at random times, and they only seem to talk about the gossip Chris hears. I honestly don't see the point in adding her as a character, even when she does prove to be a good friend toward the end of the book.
With a few shocks and surprises in the end, I thought the book had a fairly good conclusion. The more I think about it, the more I appreciate the sudden ending. Things between Lara Jean and her sisters gets squared away, as does her relationship with Josh. However, her relationship with Peter is completely left in the air, which was irritating, even though it made sense. It was a sweet little ending, which could be left open as a standalone book, but as it happens, will lead to a sequel.
I loved the feel of this book, the relationships between the characters, and the inclusion of family in a book that otherwise would solely be about one girl's relationships with all the boys she's loved before. I hope to see some more character growth in the next book, as well as some kind of conclusion with Peter. Though, I have to say, I'm most interested in what becomes of Kitty and her new puppy.